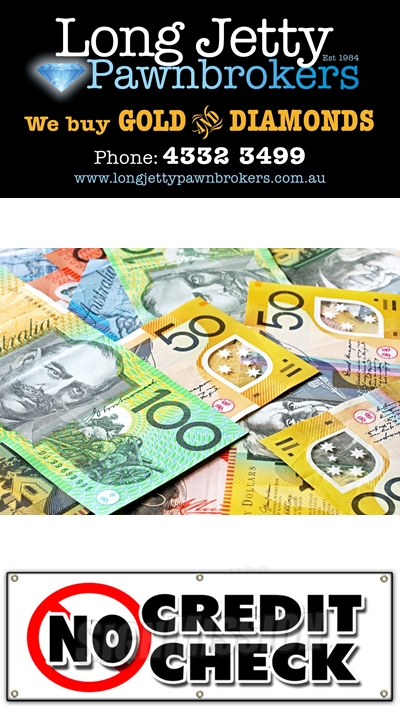 Long Jetty Pawn Brokers
Long Jetty Pawn Brokers was established in 1984 as a family owned business and has grown to be the largest Pawn Broker on the Central Coast.
We believe in offering the best service we can and have networked with our customers to offer cash loans from $20 to $100,000. We specialise in short term cash loans against any item of adequate security.
Cash Loans
We offer cash loans for anything of value. The most popular items used as security are gold, diamonds, laptops, mobile phones, musical instruments and power tools but we consider any item or items of value.
Mobile Cash
We offer mobile cash loans for items that are too large and have to be stored off premises. The most common items used for mobile cash are cars, boats, bikes and land.
For Sale
We have a large number of items for sale in our store and on eBay Please visit our website for more information.
If you are in need of a short-term loan but have never gotten a pawn loan before, contact us and let us walk you through the process.
Ph: 02 4332 3499
391 The Entrance Rd, Long Jetty NSW 2261
Email: [email protected]
Website: longjettypawnbroker.com.au